Abriaqui Overview
Abriaqui Overview
Abriaqui Overview
Commodity:  
Gold (silver-copper)
Target Types: 
Mesothermal veins, replacement mantos, porphyry- style mineralization
Location:
Western Antioquia Department 100 km northwest of Medellin
Size: 
547 ha with rights to an additional 846 ha pending
Highlights
Located just off the Panamerican Hwy, approx. 100 km NW of Medellín in Antioquia, Colombia, in a safe and stable jurisdiction with a rich history of mining.
Similar geologic setting to the 11+ million ounce Buritica deposit located 15 kilometres to the east (upper Miocene diorite intruding Cretaceous sedimentary- volcanic package.).
Over 100 closely-spaced gold-bearing veins mapped and drilled with assays up to 146 g/t gold.
Three target types: gold-bearing, mesothermal veins exposed over a minimum 1200 vertical metres in outcrop and drilling with intervening areas of stockwork mineralization, replacement-style mineralization in a manto up to 25 meters thick, and gold-mineralized potassic alteration.
Work to date (June, 2021) includes mapping with surface and underground sampling, ground magnetometry, soil sampling on a 100 x 25 meter grid, and 4029 meters of diamond drilling in nine holes.
First nine holes define two multi-vein trends with high grades (eg., 1.30m @ 28.18 g/t gold in P001) and some thicker intercepts (7.70m @ 8.46 g/t gold in P006)
Conceptual modeling based on the first nine drill holes indicates clear potential for 1.5 – 2.0+ million ounces on just four of the 100+ known veins with significant upside at depth and in the undrilled southeastern license.
Land Package and Permitting
The 547 ha project area consists of three licenses and an application which cover 90% of known mineralization. One license is wholly owned and there is an option to earn 90% of the other two with moderate work commitments. The underlying owners of these two licenses are members of a local mining cooperative. The project has the full support of the cooperative as well as strong relationships with local and state-level governments. The Company has also recently acquired the rights to an additional 846 hectares adjacent to the west and north from Polo Resources. Rights to these licenses have been fully adjudicated and their transfer is subject only to a final court action which is expected in Q3, 2021.
The project is currently permitted for surface exploration including mapping, sampling, geophysics, and drilling. A water use permit was received in Q3, 2020 which allows the use of limited quantities of surface water for drilling purposes. Drill access may not include any mechanized road or trail creation or the felling of any trees.
History
The Abriaqui project area is a stable, secure jurisdiction known for historic mining. It has not been subjected to armed disturbances of past decades. Gold production in the area has been mentioned since colonial times and artisanal-scale gold production can be documented for at least three generations. A local mining cooperative developed numerous small mines which have been in intermittent production during that period along with about 30 small water-driven arrastre mills which recover gold by gravity separation using no mercury or cyanide. The production from the mines/mills is legal and is monitored by the regional environmental authorities.
The great majority of the known veins were discovered by the artisanal miners over an 80-year period. They developed mines with up to three levels of production with aggregate strike length of at least 2000 meters. An initial period of geologic mapping, surface and underground sampling, and a preliminary program of ground magnetometry was completed between 2011-2012. Fenix Oro began field operations in 2019.
Geology and Mineralization
The project area is near the northern end of a more than 200 km long NNW-trending belt of Upper Miocene age, intermediate composition stocks and plutons which hosts numerous gold and gold-copper deposits including sheeted veins (Buritica, Marmato) and porphyries (Nuevo Chaquiro, La Colosa). This Middle Cauca belt has seen new discoveries totaling in excess of 80 million ounces of gold in the last 15 years.
Abriaqui shares many geological characteristics with the 11+ million ounce Buritica deposit located 15 km to the east. These include the size, age and dioritic composition of the intrusive stock, the host sedimentary package, the abundance, close spacing, and +1200m vertical extent of the gold-bearing veins, the presence of quartz stockwork between the veins and the abundance of free-milling gold recoverable by gravimetric techniques.
At the prospect scale, the geology is characterized by an upper Miocene, diorite to quartz diorite stock of four by two km. The stock intrudes siltstones and sandstones of the Cretaceous Penderisco Formation. This emplacement created a zone of hornfels characterized by moderate silicification up to 400m outward from the stock margin.
Three types of potentially economic mineralization are present on the property.
More than 100 mesothermal veins are present in the stock and hornfels zone in flanking sediments. The veins range from 20-150 cm in width and have been mapped and drilled over a minimum 1200 vertical metres. They are characterized by a semi-massive pyrite-pyrrhotite +/- arsenopyrite-sphalerite-galena assemblage of sulfides. High gold values are present throughout the entire vertical range of the vein outcrops with many veins assaying >20 g/t Au with a maximum of 146 g/t Au. A significant portion of the gold is present as free gold as evidenced by the gravity recovery in the arrastre mills. The veins are spaced meters to tens of meters apart and in several areas interstitial outcrops/drill core show sulfide-bearing quartz stockwork mineralization with gold grades in the 1-5 g/t Au range.
A zone of gold-mineralized potassic alteration has recently been discovered in the lower elevations of the property. This is characterized by veins and veinlets of quartz-magnetite and patches of veinlet-controlled secondary biotite. These characteristics are typical of gold-mineralized porphyry systems. Ground magnetics indicate an anomaly in the area which is opening and strengthening into the area of potassic alteration.
Recently discovered replacement mantos developed in Penderisco sediments are currently being evaluated and provide an exciting possibility for future exploration.
Exploration to Date
The entire property has been mapped. Veins, stockwork and areas of potassic alteration have been sampled and assayed for multiple elements. Over 300 samples have been taken from the veins, 15% of which grade in excess of 20 g/t Au. Significant anomalies also exist in copper and silver.
A four square kilometer grid of ground magnetics has been completed. Data (reduced to the pole) indicate that the vein areas show no response but that the area of gold-mineralized magnetite-bearing alteration in the west-central part of the property show a significant magnetic anomaly. A second magnetic high in the southeastern license is coincident with a gold-in-soil anomaly and both anomalies are open to the south at the edges of their respective grids.
Over 1000 soil samples have been taken throughout the area of the two main licenses on a 25 x 100 meter grid. Almost all the known veins appear to be generating gold soil anomalies of 100 to +1000 ppb. Numerous additional areas between and outward from known vein families are also significantly anomalous. The discovery of multiple previously unknown veins directly under soil anomalies in drill hole P002 validates the technique and puts many new areas into play for additional drilling.
Phase 1 drilling was completed in March, 2021 with 4029 meters of in nine holes. The drilling was concentrated in the more accessible northwestern license. Most holes were angled at -45 degrees from the horizontal to cut across families of steeply dipping veins with each hole targeting multiple veins.
Drilling Results
Results of the Phase 1 drill program are summarized in Figure 1 and Table 1.
P001 was drilled to the southwest to test the main northwest trending vein family (NWC in Figure 1). Nine veins were intersected ranging from 4.2 – 71.9 g/t gold and thicknesses from 0.2 – 4.1 meters.
P002 was drilled to the northeast from the same pad as P001 to test several gold-in-soil anomalies. Several previously unknown veins were intersected.
P003 and P004 were drilled to the northeast from the second pad to test parts of the east-west trending vein family. Four lower grade mineralized intercepts, each between 7-8 meters thick, were intersected in the two holes with the best grade being 1.53 g/t gold over 7.75 meters in P004. P003 contained 24 individual veins over 1 g/t Au.
P005 was drilled to test the western part of the main east-west vein corridor (the EWC in Figure 1) in the upper part of the hole and the strike extension of the main northwest trending vein family (NWC) at depth. The hole extended the strike length of the EWC to over 600m and the deepest intersection on the NWC extended the minimum vertical range of ore grade mineralization in the project area to 1200m.
P006 tested the area between the two main vein corridors and intersected the thickest mineralized interval to date, 7.70m @ 8.46 g/t gold.
P007 tested several short veins to the north of the EWC and P008 was angled at -65 degrees to test mined out areas intersected in holes P005 and P006.
P009 extended the strike length of the NWC to 1400 meters and tested one of the main magnetic anomalies on the property.
Figure 1. Summary of Phase 1 drill results, location of resource potential sections (white traces), and planned Phase 2 holes (blue traces).
Holes
Holes
Hole ID
From (m)
To (m)
Intercept Gold (g/t)

Interval (meters)

Silver (g/t)
Hole ID
From (m)
To (m)
Intercept Gold (g/t)

Interval (meters)

Silver (g/t)
P001
101.65
105.5
3.85
4.22
1.4
P005
6.20
6.80
mined out
122.10
126.24
4.14
5.08
14.7
19.90
22.50
mined out
including
122.10
122.80
0.70
19.75
58.8
39.20
42.20
mined out
and
124.05
125.68
1.63
3.45
10.2
44.10
45.20
mined out
166.83
167.07
0.24
10.45
10.2
64.90
65.60
0.70
6.49
5.2
173.61
173.80
0.19
7.90
13.3
67.65
67.95
0.30
3.59
0.6
261.85
262.05
0.20
12.30
9.9
102.25
102.55
0.30
4.95
92.7
340.20
342.80
2.60
9.09
6.3
139.30
141.70
2.40
3.66
5.9
including
340.20
340.55
0.35
32.10
19.8
including
141.30
141.70
0.40
16.85
30.2
381.70
383.00
1.30
28.18
24.5
225.80
226.05
0.25
4.90
6.2
including
381.70
382.20
0.50
71.90
60.2
441.60
441.85
0.25
6.25
5.1
398.55
398.94
0.39
13.10
19.7
701.85
703.20
1.35
12.28
12.6
415.95
416.45
0.50
7.24
25.0
P006
41.30
42.90
mined out
P002
101.00
101.50
0.50
6.96
19.7
111.70
112.45
0.75
14.45
7.9
386.50
386.90
0.40
7.55
6.0
243.65
251.35
7.70
8.46
5.0
441.80
442.00
0.20
9.54
16.9
including
243.65
244.80
1.15
50.98
24.5
454.40
454.65
0.25
7.67
1.3
including
244.35
244.80
0.45
124.50
55.5
456.50
456.70
0.20
9.91
2.3
P007
97.20
97.50
0.30
3.59
14.4
P003
21.00
21.35
0.35
7.05
0.6
108.65
111.00
2.35
1.96
6.5
P008
63.50
67.15
3.65
5.40
1.1
121.90
122.25
0.35
9.38
0.9
including
66.90
67.15
0.25
71.00
12.6
126.70
126.95
0.25
13.20
2.3
97.50
98.00
0.50
4.17
0.23
190.90
191.15
0.25
7.40
9.2
207.05
207.25
0.20
4.27
0.5
P009
23.70
24.20
0.50
3.35
1.55
277.00
277.50
0.50
2.08
4.6
95.10
97.00
1.90
3.08
0.33
312.30
312.60
0.30
7.36
0.6
447.05
447.45
0.40
6.46
2.13
442.70
444.70
2.00
3.26
0.3
479.15
480.1
0.95
3.33
5.34
Teste
Teste
Teste
Teste
Teste
Teste
Teste
Teste
Teste
Teste
Teste
Teste
Teste
P004
31.80
33.10
1.30
2.60
2.4
163.60
163.80
0.20
11.45
5.0
184.65
192.40
7.75
1.53
1.5
including
185.00
185.40
0.40
6.39
5.7
and
188.90
189.05
0.15
18.55
13.4
and
192.15
192.40
0.25
6.95
3.4
368.80
368.95
0.15
33.30
2.4
Table 1. Selected mineralized intervals in the first nine drill holes. Intervals in the table were calculated "geologically" using no specific cutoff grade. Stated intervals fairly represent the thickness and grade of gold mineralization but do not necessarily imply that a given interval may be economic in a future mine.
Exploration Potential – Mineralization Models
The Abriaqui project area has excellent exploration potential for multiple mineralization types. Outcrop sampling and drilling indicate over 1200 vertical meters with high gold grade in veins and no significant changes in sulfide mineralogy or metal ratios throughout that interval. Ore grade mineralization is open below the current deepest intersection at the 1540 meter elevation and there is no reason to believe that grade will lessen with depth immediately below that level.
The magnetic anomaly shown in Figure 2 has been modeled to a depth of at least 700 meters. It is coincident with a gold-in-soil anomaly and both are open to the south. The source of the magnetic anomaly is not known but the combination of magnetic highs with gold and the fact that copper is more strongly anomalous in the southern part of the property admit the possibility of a porphyry system at depth.
Replacement mineralization exists in the form of a 15-25 meter thick manto in sediments flanking the diorite intrusion on its northeastern margin (Figure 3). Preliminary sampling indicates widespread silica-pyrite alteration and low grade gold mineralization across that interval. Potential exists for this style of mineralization near the contact on all sides of the intrusion.
Figure 2. Coincident magnetic and gold-in-soil anomalies in the southern part of the property.
Figure 3. 15-25 meter thick replacement manto in flanking sediments near the northeast contact of the intrusion.
Resource Potential
Though no NI 43-101 compliant resources exist on the property, data from the first nine drill holes permit a conceptual estimation of minimum resource potential.
Figures 4-7 are longitudinal sections on four of the better veins, three in the NWC and one in the EWC (highlighted on Figure 1). The yellow areas in the sections are based on surface and drill data with the lower limit on all sections being fixed by the deepest intersection to date. Assumed grades and thicknesses are averaged from the drill data only as the surface samples shown are from underground workings and they represent only the higher grade portions of the veins.
Rock density is the average of over 100 measurements on core samples. As shown in Table 2, these four veins have an estimated resource potential of 1.6 – 2.4 million ounces down to the 1500m elevation.

Figure 4.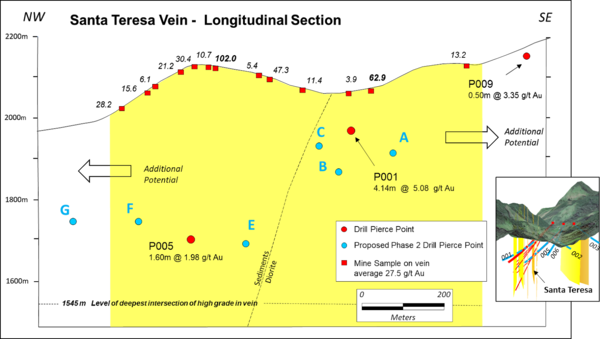 Figure 5.
Figure 6.
Figure 7.
Veins
Veins
VEIN
LENGTH (m)
VERTICAL EXTENT (m)
THICKNESS (m)
TONNAGE POTENTIAL (Mmt)
ASSUMED GOLD GRADE (g/t)
GOLD OUNCE PONTENTIAL (Koz)
Santa Teresa
800
600
2.4 – 3.6
3.3 – 4.9
4 – 6
530 – 790
NWC4
500
700
1.6 – 2.4
1.6 – 2.4
8 – 12
510 – 760
NWC5
550
700
1.0 – 1.5
1.2 – 1.6
10 – 14
440 – 660
EWC11
600
500
1.2 – 1.8
1.0 – 1.5
4 – 6
160 – 240
TOTAL
6.5 – 8.5
1.6 – 2.4 million oz
Table 2. Conceptual estimation of resource potential on four of the better defined veins at Abriaqui following Phase 1 drilling.
Significant additional potential exists:
Only four of the 100+ veins identified on surface and in the drilling contribute to this resource estimate.
Numerous potentially ore grade/thickness intercepts cut in Phase 1 drilling are not included in the analysis.
Geologically, the system is open at depth below the 1540m elevation on all veins.
The entire southeastern license is not included in the estimate. The depth potential is significantly greater on the veins in that area as they crop out at higher elevation than those in the area drilled.
Planned Exploration
A second phase of drilling began in June 2021. It will consist of a minimum 4000 meters of step-out and infill holes designed to further define mineralization on the many veins of the NWC. The planned holes are shown in blue on Figure 1 and their projected intersection points are plotted on the sections in Figures 4-7. The maiden drill program of the southeastern vein zone will also be a part of Phase 2. Possible holes are shown in Figure 8. As soon as the Polo acquisition is finalized a reconnaissance program consisting of stream sediment sampling and surface and underground mapping and sampling will be programmed in that area.
Figure 8. Southeastern license showing mapped veins/mines, soil sampling results, and traces of potential drill holes.
References
Continental Gold Inc, 2016, Buriticá Project NI 43-101 Technical Report Feasibility Study Antioquia, Colombia, Continental Gold Website
Continental Gold Inc, 2019, May 16, 2019 Press Release, "Drilling at Continental Gold's Buriticá Project Discovers BMZ4, a New High-Grade and Broad Mineralized Zone"
Continental Gold Inc, 2019, September 25 Press Release, "Continental Gold Commences Deepest Drill Hole to Date Targeting High-Grade Vein Extensions and the Porphyry Feeder at Buriticá"
Robinson, S. D., 2019, NI 43-101 Technical Report on the Abriaqui Project, Antioquia State, Colombia
Shaw, R. P. Leal-Mejia, H., Melgareho i Draper, J. C, 2019, Chapter 6, Phanerozoic Metallogeny in the Colombian Andes: A Tectono-Magmatic Analysis in Space and Time, in: Cediel, F. and Shaw, R. P., eds., Geology and Tectonics of Northwestern South America, Springer Nature Switzerland